3.1 Q: What is the Payment Term of Cyanlite?
A: Cyanlite offers flexible payment terms to our customers. Normally 100% payment should be done when placing the small orders less than 10,000 USD (100% TT in advance); For order amount more than 10,000 USD, we accept 30% deposit and 70% balance before shipment (30% TT deposit and 70% balance before shipment).
Besides TT, we also take L/C (Letter of Credit) and other payment methods, please contact Cyanlite for more details.
3.2 Q: What is standard Incoterm of Cyanlite? Can I get EXW or CIF instead of FOB?
A: FOB Shanghai is the standard Cyanlite Incoterm, and all standard Cyanlite quotations are based on FOB Shanghai, which means it covers all the costs from the Cyanlite factory to the vessel.
Some suppliers quote based on the EXW term and it seems the product price is better, however, as a buyer you have to arrange and pay for all the costs for product transportation from supplier's factory till the products are on the board of the vessel. And then extra energy and money are needed, so Cyanlite uses the most common and easy term FOB for customer's easies operation. Of course, we can support different Incoterms such as EXW, CIF, DAP, etc., as per customer's requirements.
Please see the below diagram for more information and differences between each different Incoterms.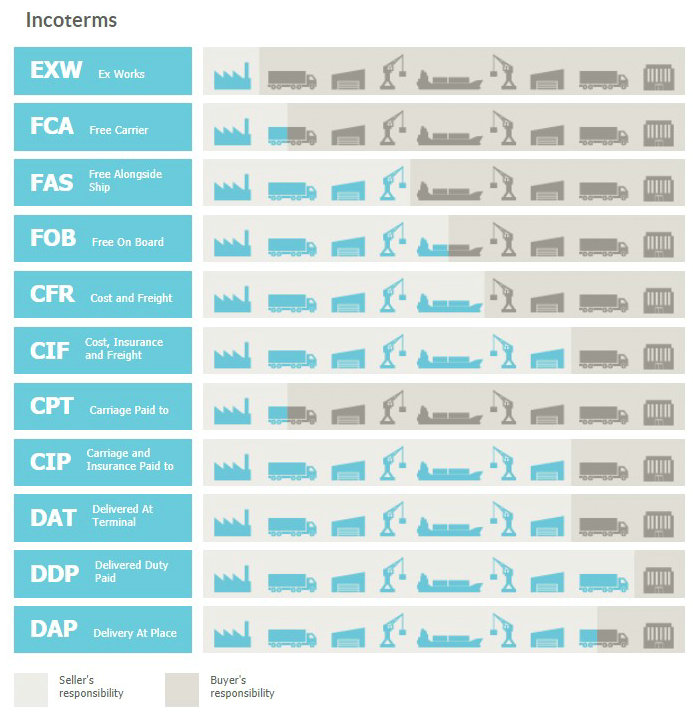 3.3 Q: How Cyanlite can offer cost competitive products?
A: Cyanlite has to make sure our customers get competitive price. If our customer can't offer competitive price, they can't win more business; if our customer can't win more business where do we get business?
Cyanlite ensures the competitive cost by Outstanding Supply Chain Management, Lean Manufacturing, Optimized Product Design, High Production Yield and Reasonable Margin Level.
3.4 Q: Can I have a better price?
A: Yes, you can. The unit price generally affected by the Material Cost, Production Cost, Management Cost and Profit Margin. And usually, Material Cost is the most significant factor affecting the final unit price.
Material Cost is the cost for all the raw materials. There will be a big difference of material cost between small volume order and big volume orders, so you can get a better unit price when placing a larger order, as the raw material cost from the supplier is also lower.
Moreover, when you compare the unit price from Cyanlite and another supplier X for a similar appearance product, it would be a good idea to figure out what materials are used? As different kinds of material and different quality levels lead to a significant material cost and unit price difference.
Here we take our 60cm diameter LED round panel light D60 as a concrete example; there are so many material differences inside that you can't tell from a similar product appearance.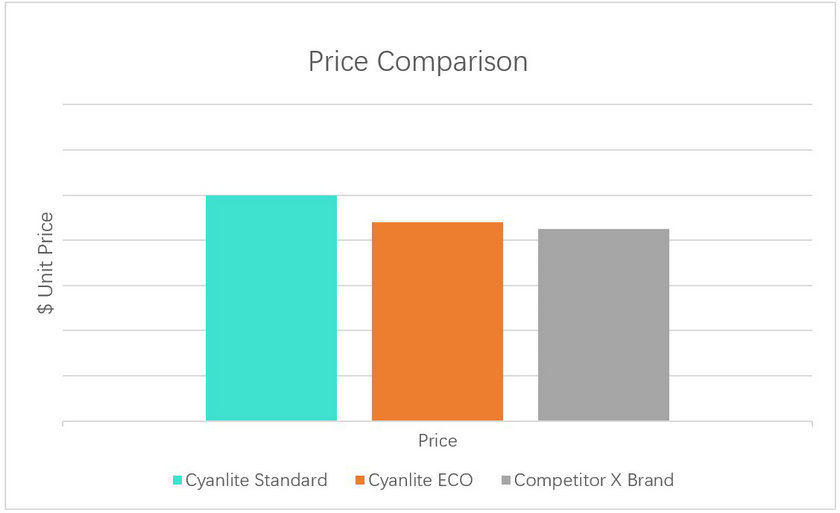 D60 LED Round Panel Light

Cyanlite Standard version

Cyanlite ECO version

Competitor X Brand

Diffuser

1mm PS

1mm PS

0.8mm PS/PP

Light Guide

Taiwan Chimei PMMA 3mm

Chinese material PMMA 3mm

Chinese material PMMA 3mm

LED

Jufei 2835 SMD

Hongli 2835 SMD

MLS 2835 SMD

PCB

FPC

FPC

Aluminum PCB

Driver

Philips Xitanium Flickering-Free

Xiezhen Flickering-Free

MF Flickering Driver

Housing

6063 Aluminum 20mm height

6063 Aluminum 20mm height

ADC12

10mm height

Backplate

1mm Steel

With powder coating

1mm Steel

Without coating

0.8mm Steel

Without coating

Packaging

Double layer corrugated box; Full EPE protection stuff

Double layer corrugated box;

Partial EPE protection

Double layer corrugated box;

Partial EPE protection

Finishing

AkzoNobel Powder coating

Chinese brand Powder coating

Chinese brand Powder coating

Accessory

Surface Mounted

Suspended

Stem Mounting

Recessed

Surface Mounted

Suspended

Stem Mounting

Recessed

Surface Mounted

Suspended

Efficiency

120 lm/w

100 lm/w

100 lm/w

Warranty

5 Years

5 Years

3 Years

Light Distribution

Down, Up/Down, Transparent

Down, Up/Down, Transparent

Down, Transparent
To meet various customers' requirements, besides Standard Version product, Cyanlite also provides ECO Version product for the limited budget projects, with different material combination and even more competitive unit price. Although different materials are used, we still keep our bottom line, which is good quality and easy installation, and always offer a five years warranty.
3.5 Q: What is the Overall Cost of a lighting product?
A: In general, Overall Product Cost consists of Initial Product Cost, Transportation Cost, Installation Cost, and Maintenance Cost.
Initial Product Cost is the unit price you pay for the product, but be careful of the price term quoted; usually, there will be a 3%-10% price difference between EXW and FOB. Cyanlite standard price terms are based on FOB Shanghai.
Transportation Cost is the cost you pay to get the products from the factory to your warehouse, and sometimes also includes the fee from your warehouse to your customers. Stable but economic packaging design and optimized container loading configuration are essential to save the transportation cost.
Installation Cost is usually being ignored since it's a hidden cost for some distributor customers, but it's very critical for project-based customers and installers. If the product takes too long for installing, it costs you much more than saving a little from the initial product cost. All Cyanlite products are designed to be quick and easy installation.
Maintenance Cost is getting more and more attentive now because many customers bought cheap products before, and it turned out they had to spend much more on repairing or replacing the defects for maintenance. That's why in Cyanlite, we only design and manufacture high-quality products, and this is our company orientation.
So, when you compare the product cost, do consider the whole Overall Cost. And you will find Cyanlite is very competitive for both initial product cost and overall product cost.
3.6 Q: Why Cyanlite Fast Quotation and Quick Sample will help me win projects?
A: Cyanlite R&D director has been in the lighting industry since 2005, he has worked in many top lighting manufacturers and designed many luminaires and projects for lots of premium customers. He is leading a very excellent R&D team in Cyanlite with strong Supply Chain Base and professional know-how. Cyanlite FQQS (Fast Quotation Quick Sample) ability allows us to quote your special product within 24 hours and deliver a prototype sample within 7days.
When your competitors are still calculating the cost, you already got the full quotation and a decent sample from Cyanlite to show your customer, that is one of many ways we can support you to win your projects.