Long-distance Quality Control? No problem!
To make sure the quality standard is met, Cyanlite implements rigorous inspection and provide the detailed Pre-shipment Inspection Report to our customers for every single shipment, offering our clients an objective review of the products and with the perspective like you or your inspector are right there to implement the inspection, and you know what you will have before receiving them.
How we do it?
Firstly, according to MIL-STD-105E (in accordance with AN5I/A5Q 21.4; B5 6001 / 150 2859; DIN 40080; NF X 06-022; GB/T 2828.1.), we'll choose the sample size based on the total quantity of each item.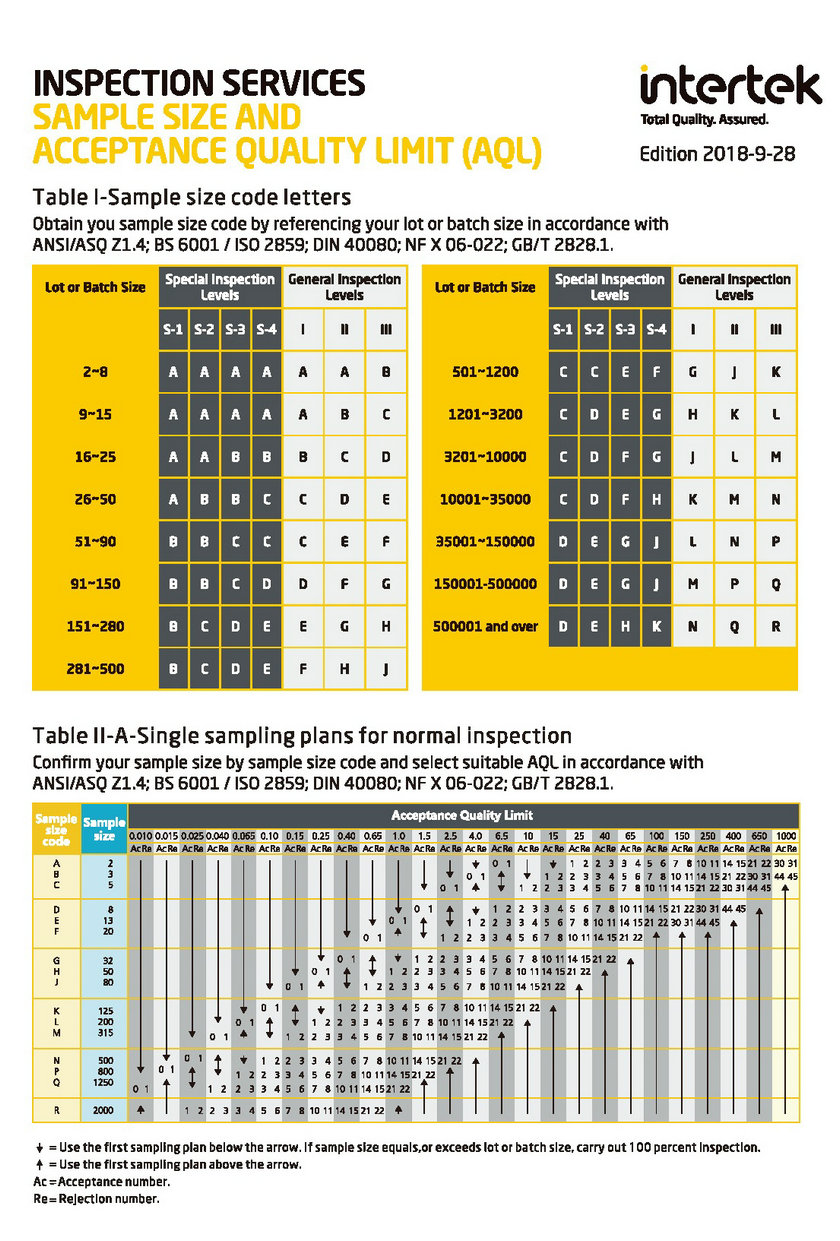 Next, we'll implement various tests with every item in the sample size. It concludes but is not limited in Package checking, Appearance checking, Accessory and Document checking, and Technical checking. The detailed checking items are shown below.
1. Export box
1.1 Shipping mark
1.2 Drop test
1.3 Carton quality
2. Inner box
2.1 Barcode label
2.2 Drop test
2.3 Carton quality
3. Item Appearance
3.1 Item label
3.2 QC label
3.3 Visual inspection
4. Accessories & documents
4.1 User manual
4.2 Accessories
4.3 Packaging
5. Technical check
5.1 Optical check (Beam angle, UGR)
5.2 Dimensions / Weight
5.3 Cable connections / Terminal block
5.4 Sticker protection class / Earth cable
5.5 Functional test
5.6 Measure input / output (V / W / A)
5.7 IP class check
5.8 Hipot check
5.9 Light measure (luminous flux, CCT, Chromaticity Coordinate, CRI, SDCM)
Here's a sneak peek of our typical PSI report.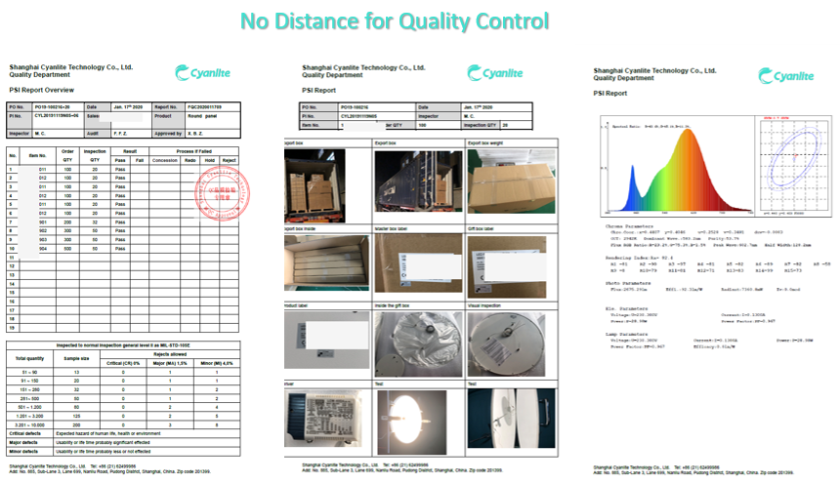 For more details, feel free to request a Pre-shipment Inspection Report sample from our sales guy, contact now!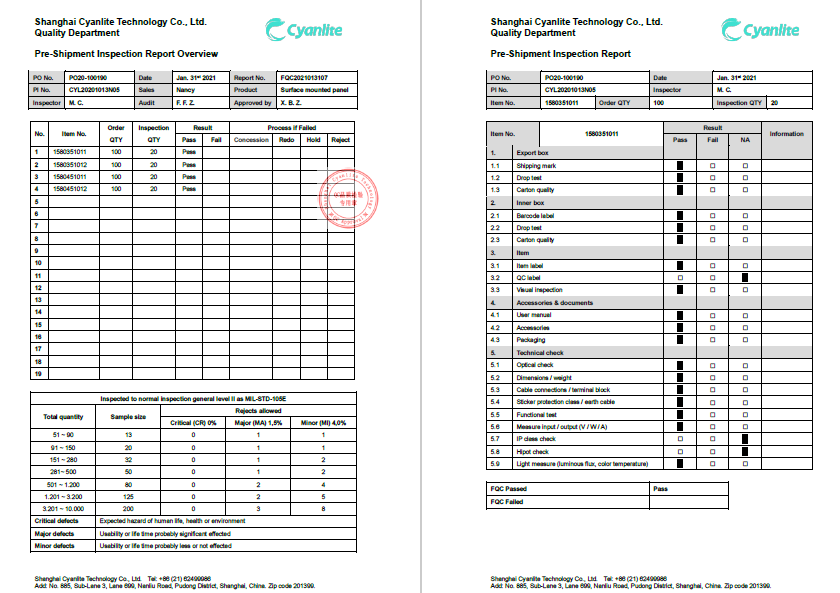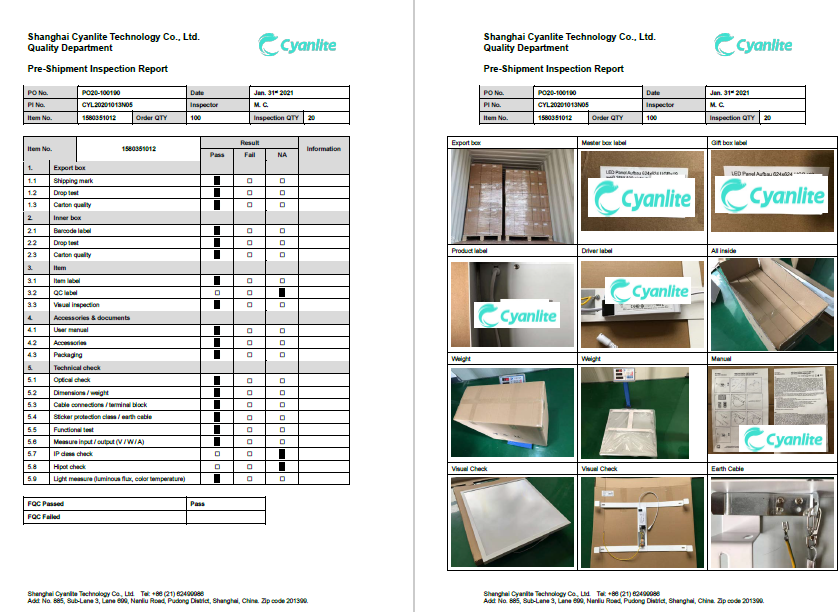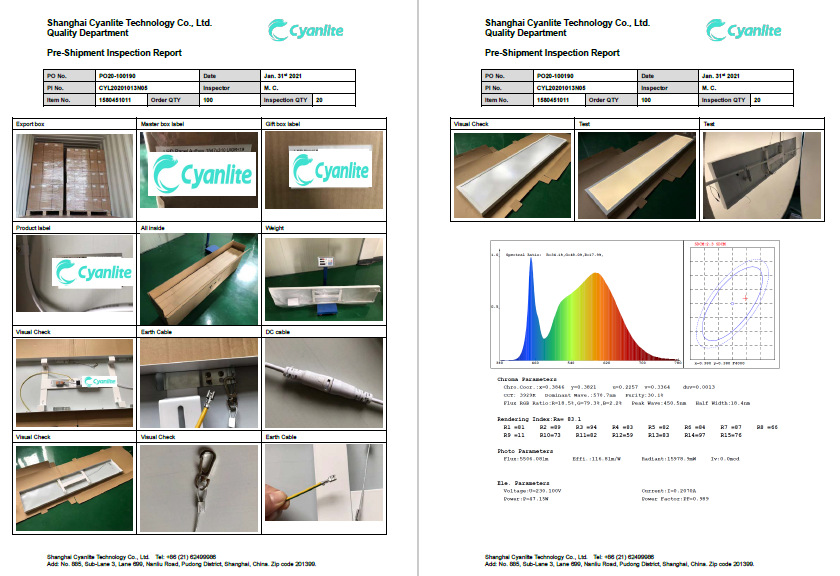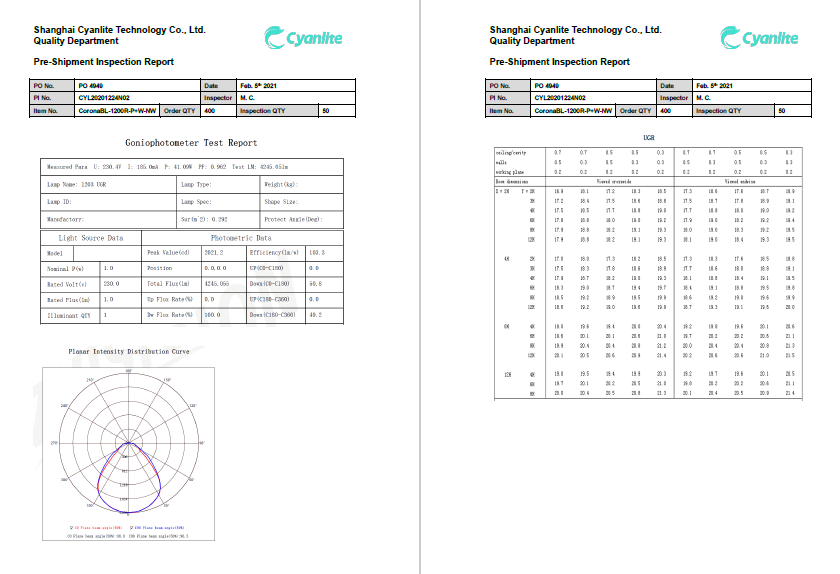 All Cyanlite Products are at least 5 years warranty, please check our warranty letter here:
https://www.cyanlite.com/download/Cyanlite-Products-Warranty-Letter.html
AFTER SALES SERVICE
Quality Management / Customer Service / Spare Parts Service
+86 21 3157 9659-839
SEND EMAIL