2.1 Q: How does Cyanlite control the product quality?
A: It takes years to build a brand and a good reputation but sometimes overnight to destroy it. Our management philosophy is Righteous People & Reliable Product. As an integrity company, we firmly believe that quality is the base of developing a good company. To fulfil quality policy, it requires not just a policy mechanism but also the daily enthusiastic participation of each of our employees.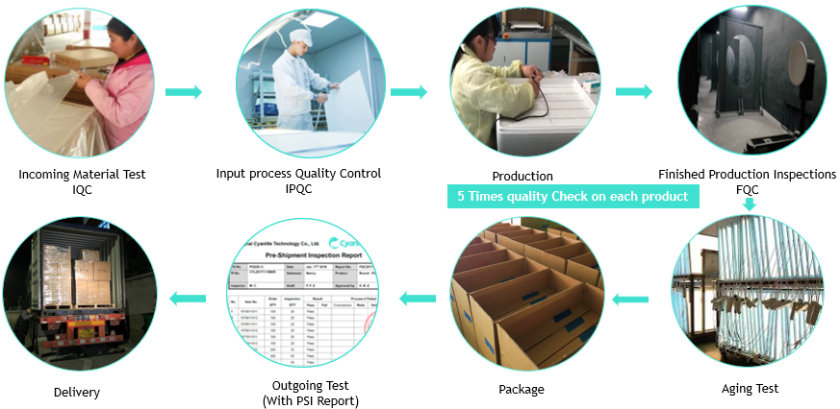 On the manufacturing part, we have skilled workers to produce the products strictly following SOP and KPC records. Most of them have experiences of more than two years in Cyanlite. And whenever some new workers are joining, we'll offer through training on the theory and practical proceeding and a test. Without passing the test, No one is allowed to work in the production line.
Cyanlite has set up a quality control and management system according to the requirements of ISO 9001. All records are effectively controlled and traceable to ensure the operation of the quality system. We have the most advanced testing equipment with quality and advanced environmental variable detecting instruments, and we have very experienced QAE (Quality Assurance Engineer), SQE (Supplier Quality Engineer), and QC (Quality Control) in the factory. Strict inspections are implemented throughout the production process from material receiving, assemblies, to final QC before delivery, and all products will be ageing tested before packing. These IQC, IPQC, FQC, OQC make sure all the NG products are contained inside the factory rather than at customer's sites.
Along the way, we have accumulated many FMEA (Failure Mode and Effect Analysis) for manufacturing a quality product, and our KPC are set up based on these valuable experiences. These key processes and critical parameters ensure the overall quality level and avoid waste. We will demonstrate how and what we do during each KPC when customers visit us on site.
2.2 Q: Does Cyanlite product have any difference with similar products in the market?
A: Yes, we do. Cyanlite cares more for all the product details in uniformity, glare control, structure design, installation, finishing, packaging, etc. And these details can reflect our professionality.
Take the LED Big Round Panels as an example; we have so many differences with the other similar products in the market as follows:
1, Cyanlite uses pure Taiwan Chimei PMMA instead of PS or MS to avoid the yellowing issue and ensure the excellent uniformity.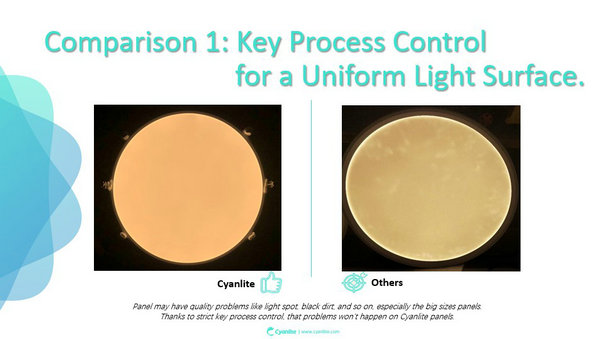 2, The DC cable and suspension wire are integrated into one, no need an extra DC cable, and this makes the whole product more elegant and chicer.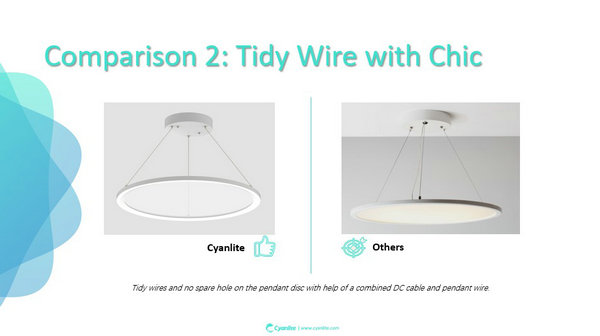 3, Cyanlite Cynthia LED Big Round Panels have a unique structure design, it's more robust and has better UGR control.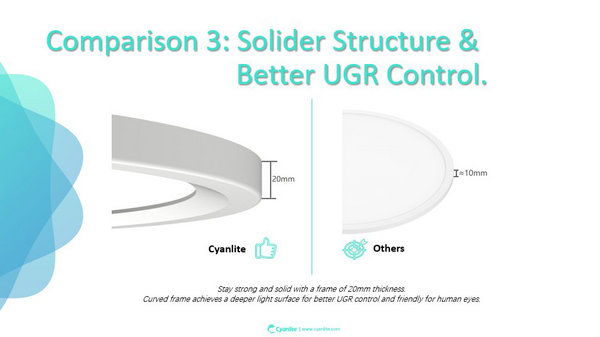 4, The backplate is also powder-coated in the same color, makes the whole luminaire appearance more harmonious and higher level.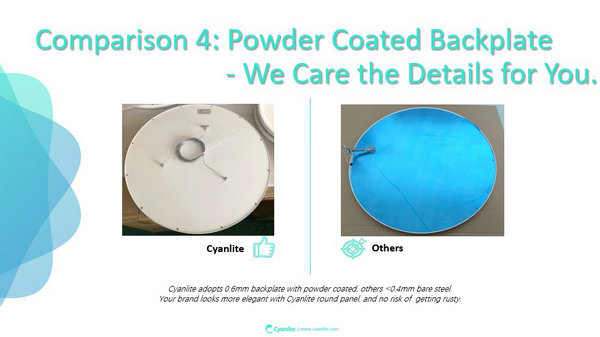 5, The driver, canopy, suspension kit and all accessories of Cyanlite LED round panels, are all packed in the same inner box, which leads to more competitive shipping cost, easier for the installer and simpler for customer distribution.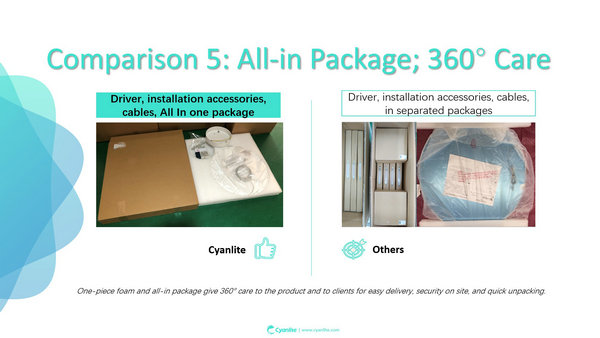 6, Cyanlite products are more flexible. The same Cyanlite product can be used in many different installation ways, with various mounting fixtures. Relieving customer stock pressure and simplifying customer product management complexity.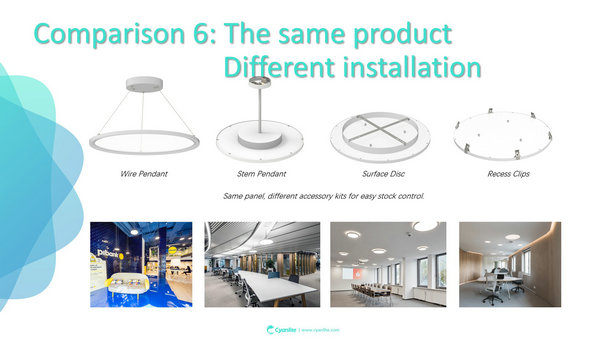 2.3 Q: What Driver and LED is Cyanlite using?
A: LEDs and Drivers are the most critical components to the lifetime of luminaire, so Cyanlite has always been very cautious with the LEDs and Drivers we are using in our products.
Cyanlite only uses high quality LED and Driver brands which are approved and certified by the market, to ensure the product performance and warranty, here are the most used brands in Cyanlite products.
LED: Jufei, Samsung, Seoul Semiconductor, Philips Lumileds, Nichia
Driver: Xiezhen, Lifud, Tridonic, Osram, Philips, Meanwell
2.4 Q: What is a PSI (Pre-Shipment Inspection)?
A: A Pre-Shipment Inspection is a systematic inspection of units selected at random from all batches of your order, conducted when your production is at least 80% complete. Cyanlite inspectors select random samples from finished goods according to the international statistical standard known as MIL-STD-105E (ISO2859-1). The PSI confirms that finished products are in full compliance with your specifications. These comprehensive criteria cover: functionality, performance, durability, overall appearance, and dimension.
To make sure the quality standard is met, Cyanlite implements rigorous inspection and provide the detailed Pre-shipment Inspection Report to our customers for every single shipment. Offering our clients objective review of products, and with the perspective like you or your inspector are right there to implement the inspection. You know what you will have before receiving them.
A standard Cyanlite PSI report will include the following contents:
1. Export box
1.1 Shipping mark
1.2 Drop test
1.3 Carton quality
2. Inner box
2.1 Barcode label
2.2 Drop test
2.3 Carton quality
3. Item Appearance
3.1 Item label
3.2 QC label
3.3 Visual inspection
4. Accessories & documents
4.1 User manual
4.2 Accessories
4.3 Packaging
5. Technical check
5.1 Optical check (Beam angle, UGR)
5.2 Dimensions / Weight
5.3 Cable connections / Terminal block
5.4 Sticker protection class / Earth cable
5.5 Functional test
5.6 Measure input / output (V / W / A)
5.7 IP class check
5.8 Hi-pot check
5.9 Light measure (luminous flux, CCT, Chromaticity Coordinate, CRI, SDCM)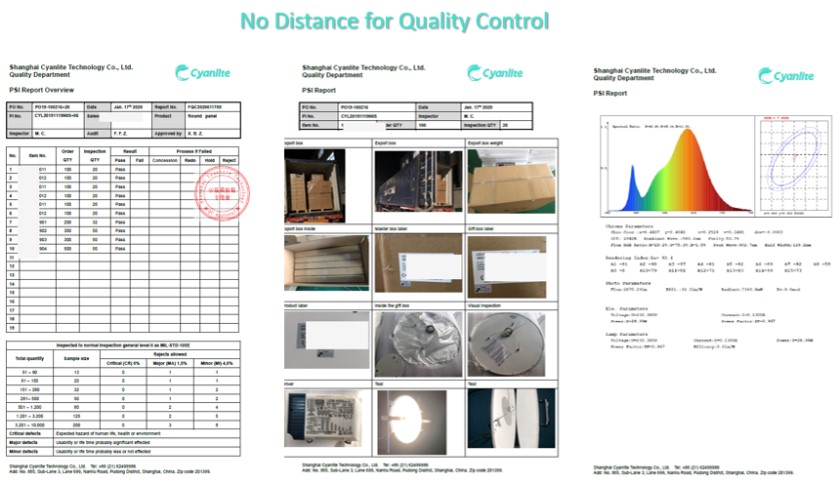 For more details, feel free to request a Pre-shipment Inspection Report sample from our sales guy, contact now!
2.5 Q: Is every product tested before shipping?
A: Yes, all Cyanlite products are 100% tested multiple times during the production and before shipment. Moreover, a PSI report will be provided to customers before each shipment. Our goal is to produce high-quality products from the design phase to manufacturing process control to reduce the product defect rate. In case there is a defect, we should contain it inside the factory rather than send to the customer, and then generate more cost for customers and ourselves to fix it.