It takes years to build a brand and a good reputation but sometimes overnight to destroy it. Our management philosophy is Righteous People & Reliable Product. As an integrity company, we firmly believe that quality is the base of developing a good company. To fulfill quality policy, it requires not just a policy mechanism but also the daily keen participation of each of our employees.
On the manufacturing part, we have skilled workers to produce the products strictly following SOP and KPC records. Most of them have experience of more than 2 years. And whenever some new workers are joining, we'll offer through training on the theory and practical proceeding and a test. Without passing the test, No one is allowed to work in the production line.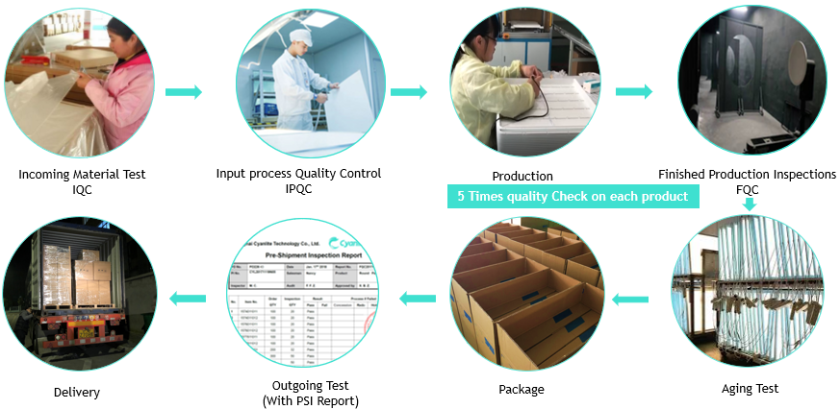 At the same time, like every subsidiary in Cyan Group, Cyanlite has set up a quality control and management system according to the requirements of ISO 9001. All records are effectively controlled and traceable to ensure the operation of the quality system. We have the most advanced testing equipment with quality and advanced environmental variable detecting instruments, and we have 2 experienced QAE (Quality Assurance Engineer), 2 SQE (Supplier Quality Engineer), and 6 QC in the factory. Strict inspections are implemented throughout the production process from material receiving, assemblies, to final QC before delivery and all products will be aging tested before packing. These IQC, IPQC, FQC, OQC make sure all the NG products are contained inside the factory rather than at customer's sites.